RA Sushi is an unconventional dining concept that blends fresh sushi, hip music and contemporary décor all rolled up into one flavorful experience. From traditional to progressive, RA Sushi offers a wide selection of fresh sushi sliced to order, signature rolls and sashimi dishes along with plenty of outstanding Japanese fusion "hot dishes" in a fun lively environment. The restaurant features a traditional sushi bar adjacent to the table dining area, as well as a separate, full cocktail bar with Asian-inspired spirits.
Lunch: served until 3pm
Bar: open until 1am or later
Happy Hour: Mon-Sat 3-7pm
| | | |
| --- | --- | --- |
| | | currently @ RA Sushi Bar Restaurant |
Re-Tweet for a Treat!
Are you following @RAsushi on Twitter? Don't miss out on "Re-tweet for a Treat!"

The fun begins this Sunday. Re-tweet our Nicky's Week tweets and you could win free sushi for a year!
9th Annual Nicky's Week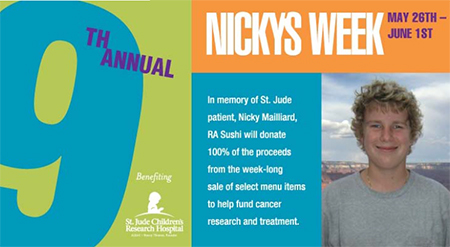 The special Nicky's Week menu includes:

FOOD:
$8.25 Tootsy Maki
$7.75 Chicken Yakitori
$7.50 Garlic Citrus Yellowtail Tapas
$6.75 Pork Gyoza
$5.00 Shrimp Nigiri
$4.00 Edamame

COCKTAILS:
$9.00 Pamatini
$8.00 Ginger Blossom
$8.00 Samurai Cowboy
Ra Sushi Bar Restaurant, Ninth Annual Nicky's Week http://www.rasushi.com/nickys-week-2013
1 of 2 5/1/2013 1:25 PM

WINE & BEER:
$9.00 J. Lohr Cabernet Sauvignon
$9.00 S.A. Prum Essence Riesling
$5.00 Stella Artois

NON-ALCOHOLIC DRINKS:
$4.00 Red Bull
$3.75 Strawberry Lemonade (bottomless)
$3.50 FIJI Bottled Water (500ML)
Happy Hour prices will be honored on applicable items.
Nicky's Week was developed in memory of St. Jude patient Nicholas "Nicky" Mailliard, of Scottsdale, Ariz., who lost a long battle with brain cancer in February 2005 at the young age of 13. A nephew of one of RA Sushi's founders, Nicky held a special place in the hearts of RA Sushi associates throughout the organization. RA Sushi initiated the fundraiser to honor the memory of Nicky and to raise awareness and funds for St. Jude, where no child is ever turned away because of a family's inability to pay for medical treatments.
store information

| | |
| --- | --- |
| | In Location 2065 |
| | 909-902-0044 |
| | View Jobs |
| | Payment types accepted: |
Save |Map